Featured article of the week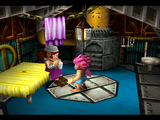 Where's My Son? is an event in Tomba! 2: The Evil Swine Return. In order to clear this event, another event must be cleared later in the game before heading back to the place where is was activated.
The objective is to find and return the missing son to the concerned mother in Coal-Mining Town.
News on the Tomba! Wiki (archive)
1/31/2019

4/15/2018

1/25/2016